Scope of Services : DFL personal are fully prepared and able to provide services on a worldwide basis, including all labour, supervision, technical and professional assistance, supplies and equipment to perform the following functions:



Meeting with customer representatives and designated suppliers to review the materials and equipment to be transported and to discuss other technical requirements.



Reviewing the placement of purchase orders and working to establish the shipments.



Selecting a suitable facility,or facilities,or consolidation, packing, container stuffing, marshaling and exporting of materials and equipment (consideration of dimensions and weights of cargoes,
locations of vendors inland transport, port conditions and available vessel services normally govern this selection).



Maintaining contact with suppliers and calling shipments forwarding to the consolidation / marshaling facility or directly to the port of export.



Evaluating the necessity of providing expediting services on cargoes to ensure proper packing and crating of materials or shipment (providing these services as required).



Arranging and / or providing professional packing of materials, if required.



Inspection of packing and crating upon receipt of cargo at port of shipment of marshaling/ consoldation facility. Timely advice of any and all discrepancies on materials that do not meet project requirements.



Negotiating rates and conditions for the transport of materials to the designated ports of discharge.



Review of supplier's documentation in order to ensure compliance with project requirements.



Preparing all documentation, in required langauge formats, to include, but not limited to :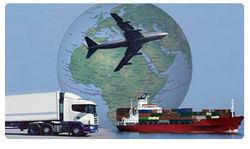 Export Declarations


Bill of Lading


Customs Invoices


Airway Bills


Packing Lists


Commercial Invoices


Certificate of Origin


Consular Documents

Timely preparation and dispatch of documentation and shipment advice for pre-clearance at destination. Electronic transfer of pertinent date.



Investigation of the possibility of establishing a custom bonded facility for intermediate storage of materials until required to be cleared through customs. Arranging and providing facilities, as required.



Providing or arranging for a contractor at destination to perform customs clearance and final deliver to the job site. Providing technical and engineering services for the installation of heavy items to the site foundation.



Providing marine cargo insurance and / or assisting with negotiation of rates and conditions.



Providing banking services for the negotiation of Letter of Credit



Providing custom designed status reports and on-line computer based inquiry systems.



Providing up-to-date information with regards to technological changes in the transport industry new services and other changes which may lead to more convenient or economical transport services.

Description of Project Forwarding
We herewith would like to introduce one of our specialties.



Projects we call our complex transport operations which are based on time limits and consists of various parts. This includes handling of transports and delivery of suppliers for the plant construction and building industry. In particular we talk about cargo ex-works free job site as well as bulk and heavy cargo.



Especially in the project sector, careful planning is absolutely necessary and has to right from the beginning. i.e. at the early stage of presenting a quotation. Since this is one of our specialties we would like to offer our services as consultants in order to provide you with the necessary backup and to make sure to be ahead of your competitors at an early stage, i.e. by being competitive, having the advantage of our experience, flexibility and will known services, our almost freight rates will convince you that DFL is the right partner for you.



With our own office in Bangkok and a world-wide net of reliable agents we are in a position to offer a comprehensive scope of services while working out specific solutions for you needs.



Moreover, all our members within the Project Division are trasnportation experts with many years experience in transport planning and project handling.

Key Aspects of Project Handling
Below please find the key aspects how to handle a project "our way"
Planning Stage
Detailed Stage
Feasibility study of transport operation
Specific country information
Checking on transport studies
Preparing transport studies
Consulting about packing
Transport insurance
Rate calculation


Establishing scope of services needed and choice of administration aid
Final proposal of forwarding and other services rendered
Forwarding contract
Handling Stage
Monitoring
Fixing of organization schedule
Final organization, execution and routing of warehousing, packing, handling as well as customs clearance
Obtain, issue and distribute documents
Physical check on all main transaction
Monitoring of schedule and delivery dates
Ensuring up to date information flow
Status report
Cost control

Within the various stages of processing there are many different activities resulting from their handling structures and in accordance with the requirements agreed upon.